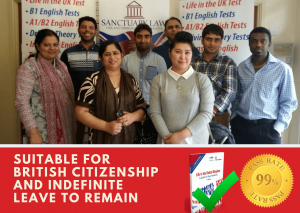 Life in the UK test is a test which is conducted by the government of the United Kingdom for those who want permanent British citizenship or to get settle down in the UK. This test is just a medium to know and check the candidate's knowledge of the English language and basic customs and traditions of the United Kingdom. The test contains only 24 questions and applicants have to answer them all in 45 minutes. Life in the UK practice test is based on the 3rd edition of an official handbook named "A guide for new residents".
New Version Of The Test
Book named "A guide for new residents" covers all the chapters on the society and everyday life in Britain and on British government. To apply successfully for Indefinite Leave to Remain or permanent British Citizenship you will have to pass the test that too with good score. In October 2013, the new version of this test was introduced which allows you to answer all 24 multiple choice questions in 45 minutes and you have to give at least 18 correct answers to pass the test i.e. 75%. There will not be an option to check your straight answers in Life in the UK test after your selection, but at the end you will get a full report.
Importance Of Life In The UK Practice Test
The only purpose of this test is to demonstrate the knowledge of English language and Life in the UK for migrants. The applicants which fall in the between of 18-64 age brackets can only appear for the exam and have to pass the test. Every time you will have to pay £50 to book a test. Life in the UK practice test is the selection of random 24 questions out of the database of 1000+ questions. After selecting your answer you will get an option to check you answer is correct or not. After finishing the practice test you can start using test mode.
Some points which are important and related to Life in the UK practice test:
The questions will be based on all 5 chapters that are present in the official handbook and everything is updating constantly, so make sure you pass the test in first time.
To complete Life in the UK test our unlimited practice makes us the no. 1 resource.
For Life in the UK test you can rest assured as it will be based on the latest handbook
Need help?
Speak to our support team on 01158376502
Find out more about the Life In The UK Test course.