The A2 English Test Course
Secure Your Future With Our Online Teachers
Need help?
Speak to our support team on 01158376502
Find out more about the Life In The UK Test course.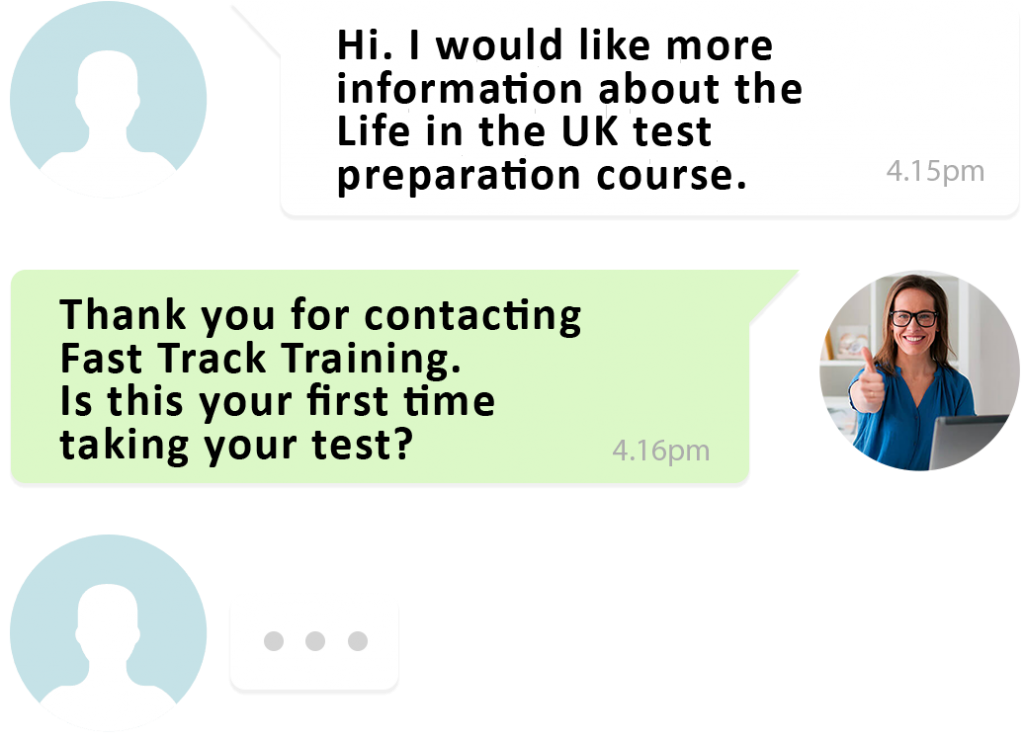 Read Our Student Reviews:
I very happy Fast track excellent I passed the first time
Tasawar Hussain
2021-09-10
Good luck everyone who want pass the life and UK test join the fast track training.
Radiya's Family
2021-08-25
Overall, my experience with Fast Track Training was positive. I was recommended by family member . I would recommend to everyone. Teacher was friendly and very helpful.
Arijeta Hasani
2021-08-16
Very helpful and friendly staff, I will definitely recommend others.
Very satisfied , the director is so smart and creative which created a connection code between words,the teachers professional and friendly,strongly recommend.massive thanks to fast track
I strongly recommend any courses from Fast Track as it was my second course with them after accomplish successfully the life in the UK test on 17th April 2021. Therefore, 3 days of passing I decided to enrol in another course with them called Driving Theory Test Training, which they help me to pass my theory test first attempt on 3rd June 2021 in just 3 weeks of online training. In addition, from my point of view it is the best place for you to consider in taking any kind of courses from Fast Track Training related to your desire. I just don't have words to say thank you to my teachers such as Mr Gazin and Mr Rahil as they motivated me a lot by giving me online group training via zoom twice a week, but if you are not able to attend a group session they also got one-to-one session. Furthermore, the teachers are fully trained and have been teaching for over 10 years, which they are confident in giving you the support you need in order to pass your theory test first time like me, such as motivation, explanation and confidence as well as knowledge and online training from the platform plus online training via zoom. Also, I have been told from Mr Rahil, who is one of the teachers from Fast Track Training that in the future they gonna produce recorded videos explaining any gaps from each topics besides mock tests. Give a chance to yourself in passing your theory test first time with Fast Track Training! That's very kind indeed, one more time Fast Track Training, to be honest I am more than happy in doing my second review! Elizabete
I hired fast track training for my wifes A2 test preparation and from the first telephone call till the end they were very professional. The 121 training was ideal for my wifes preparation and she passed the exam in Leicester first time. Which was a massive relief for the visa process. The classes were on time and flexible. My wife really enjoyed the experience and her confidence grew with each lesson. Rahil is a great professional. Massive family way of working.
Maryjean Roberts
2021-06-09
I learned a lot. They are very good and very helpful i highly recommended 😊
Watch Our Successful Students: